A shrimp pond aerator is one of the main components in aquaculture, especially in intensive and super-intensive ponds. An aerator is a tool that serves to dissolve free oxygen into pond water.
The existence of a water wheel and other supporting equipment for shrimp growth in aquaculture is intended so that ponds can become a comfortable ecosystem for shrimp growth. So that shrimp can grow optimally.
Shrimp pond aerator functions to create aeration. Aeration is a process of increasing the oxygen content in the aquatic environment to ensure that the organisms that live in it get an adequate supply of oxygen and live healthily.
In this article, let's discover the types of waterwheels commonly used in shrimp ponds and their functions!
Also Read: 4 Types of Vannamei Shrimp Harvest Time
The Function of the Shrimp Pond Aerator
Increasing the supply of oxygen in the water stabilizes the biological processes of shrimp.

Ensuring the shrimp get an adequate supply of dissolved oxygen

Improve the quality of the water where shrimp live.

Helps distribute nutrients and feed evenly into the pond.

Make it easier for pond bottom manure to be directed to the disposal center so that the pond bottom is easier to clean.
Types of Pond Aerators
1. Pond Waterwheel with Paddle Wheel
In terms of performance, the paddle-wheel water wheel is the most effective aerator on the pond surface. The parts consist of a frame, motor, float, clutch, deceleration engine, bearings, and paddle wheel.
This waterwheel works by splashing water into the air and capturing oxygen to increase the DO content. The more bubbles produced, the more oxygen is captured.
2. Spiral Aerators
A spiral aerator is an improvised form of a paddle-wheel water wheel, the difference being the shape of the wheels. As the name suggests, this aerator wheel is spiral. In addition, there are several other differences, such as reducing the gearbox or reducer, handle, and connecting shaft.
Meanwhile, in terms of how it works, spiral aerators also sprinkle water into the air to capture oxygen. However, it gets many more bubbles than a regular paddle wheel waterwheel.
3. Pump Sprayer Aerator
A pump aerator is a type of aerator that works by drawing water into a vertical tube and then sprinkling it into the air to capture oxygen. The water will be deflected radially and then fall back to the surface in an umbrella-like pattern.
This type of aerator is widely chosen because it does not require much special care. However, its use can only reach a small area, while it needs to be optimal in large sizes.
In-use pump aerators are usually used in small ponds or can also be used in large ponds but in combination with other types of aerators.
Also Read: Getting to Know the DOC Terms in Shrimp Farming
4. Vertical Pump Aerator
A vertical pump aerator has the same working principle as a pump aerator, which is to draw water into the pump tube and then sprinkle it into the air.
Vertical pump aerators are more suitable for small ponds up to 0.25 Ha because the splash produced by this aerator is not as big as a waterwheel. Meanwhile, the capacity ranges from 1 kW to more than 50 kW.
5. Jet Aerators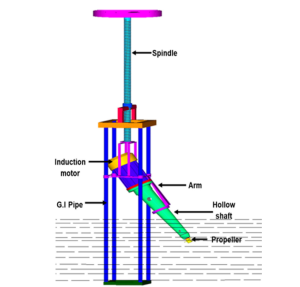 The jet aerator consists of a shrimp pond water wheel composed of a frame, air suction pipe, propeller, and driving motor. Unlike other types of aerators, the propellers of this aerator are in the water.
The way it works starts with a propeller rotating in the water and sucking in air from outside the pool through a pipe. After the air is sucked in and enters the water, bubbles will appear, indicating that the oxygen supply is starting to enter.
Also Read: What is MBW Term In Shrimp Farming and How To Calculate It?
Fulfill Your Farm Equipment Needs with AquaLink!
Aerators or waterwheels are important in shrimp farming, especially for intensive and super-intensive ponds. This aerator supplies oxygen into the water so the shrimp can grow optimally.
To meet the needs of shrimp pond aerators and other pond equipment, you can get them through DELOS AquaLink!
Delos AquaLink is an integrated supply chain that connects our partners to get the products they need for their ponds with the best quality and price. Through AquaLink, you can get your needs for pond equipment, feed, medicine, logistics, and harvesting services.
To become part of AquaLink, contact DELOS directly via contact@delosaqua.com or submit via the contact column on our website www.delosaqua.com. Let's partner up!